A Cable Tray System is used in the Electrical Wiring of Buildings to support insulated Electric Cables used for Power Distribution and Communication. Cable Trays are used as an Alternative to open wiring or Electrical Conduit Systems and are commonly used for cable management in Commercial and Industrial Construction.
We provide our clients a Wide Range Of Cable Trays which are available in a wide variety of Quality Metals and Finishes. These Cable Trays are made of Mild Steel, Pre-Galvanised Steel & Stainless Steel. These Cable Trays can be used in Stores and Dwellings.
Our range of Cable Trays includes Perforated Cable Trays, Steel Ladder Type Cable Trays, Flooring Raceway, Trunking and Cable Tray Accessories. This Range is renowned for varied features such as Resistance to Corrosion, Strength And Durability. We also Offer customised Options as per the clients requirement.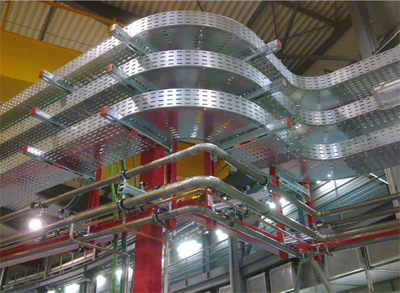 Ladder Type Cable Trays
Ladder Type cable trays provide a support system for managing cables in a building or other places. cable tray installation provide instant apporach to maintain and replacement of cables without any difficulty. They give excellent ventilation and enhance life of cables.
Range :

• Width Available from 100 mm
to 2000 mm
• Side walls 50 mm to 150 mm
• Rungs from 30 mm to 75 mm
• Thickness : Point 8 mm, 1, 1.2, 1.6, 2, 2.5, 3, and 4 mm
• Length : Max. 2.5 Meter



Finish available are :

• Hot Dip Galvanized
• Pre Galvanized
• Painted, Powder Coated
• Epoxy Coating

Made Out of :

• HR / CR Sheets
• S.S. Sheets
• Pre-Galvanised Sheets
Perforated Type Cable Trays
We offer a wide range of perforated cable trays which are facricated using quality raw materials such as Mild Steel, Pre-Galvanised Steel. These perforated cable trays are offered in different types, generally fabricated in mild steel. As per the clients requiremens, We can customise our perforated cable tray range in following modes:

• Enamel painted or powder coated
• Fabrication in pre-galvanized steel ( GP ) or Mild steel with hot dip galvanised ( HGD )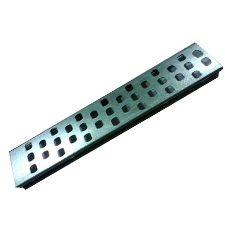 Range :

• Width Available from 25 mm to 600 mm
• Height of channel : 25 mm to 250mm
• Thickness : 0.8 mm to 2.5 mm
• Lengh : Max. 2.5 meter



Finish available are :

• Hot Dip Galvanized
• Pre Galvanized
• Painted, Powder Coated
• Epoxy Coating

Made Out of :

• HR / CR Sheets
• Pre-Galvanised Sheets

Product Range